Winners of Vendies 2021 CSR Award!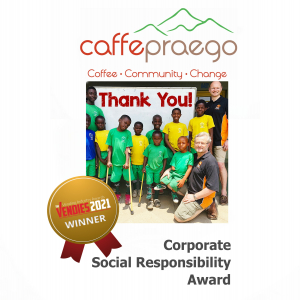 Caffe Praego were extremely honoured and humbled to win the Vendies 2021 Corporate Social Responsibility Award, judged by industry peers and a panel of respected industry judges.
Praego reached the finals, together with six other well-known international business brands, and the team were amazed & delighted to come out as the winner.
We were judged on our direct & very personal sourcing of teas and coffees, as well as working closely with the farmers & co-operatives and our ongoing community projects in Rwanda.
In addition, judging looked to other aspects of our sustainability focus, such as environmental packaging, orphan sponsored artwork on our bags, recycling channels and our commitment to move to electric vehicles with our 1st one delivered today.
This is Caffe Praego's third award over the past three years, together with our non-profit partner, the Point Foundation.
The Team dedicate these to our PF field teams and supply partners from Rwanda, to our UK roasters at Masteroast Coffee Co Ltd. They all do such a fantastic job.
We'll be posting more info on our "Corporate Social Responsibility, Investment, Involvement & Impact" work in the coming weeks.
To find out more about the Vendies visit https://thevendies.co.uk/